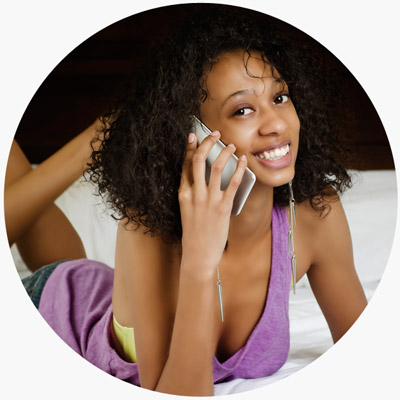 Conversation Starters for Women on Voice Dating Apps and Chatlines
Ladies, in the best-case scenario when you go on a first date and hit it off; the chemistry is right, and the conversation flows naturally. Sometimes, when you're chatting with someone new on a singles dating chatline, there are times when the conversation starts to run dry. Don't worry, it just means that dating can be a little tricky and it's human to take a little time to really get comfortable talking with someone new. On a phone chat date, it can be difficult to figure out what to ask without making it seem like you're interrogating your date. After all, the key to a good date is relaxed conversation, and the last thing you want is to makes his palms sweat from interview-like first-date demeanor.
Do you consider yourself an introvert?
Knowing yourself helps better understand the person you are talking to. Especially on first date with a complete stranger, knowing how the other person carries themselves goes a long way in setting the stage for a more comfortable conversation where you really get to know each other. Does your date command a room or are they a wallflower? This helps create a bond and a deeper connection between the both of you.
Do you like working out?
Fitness is important to a lot of women and can be a big part of people's lifestyle. They don't have to be a gym rat meathead or into CrossFit, but it defenitiely opens the door to more conversation and could eventually lead to a fitness date. Maybe when you're both ready to take it further, you can go on a run or take a yoga class instead of dinner and drinks dates.
What's your guilty pleasure TV show?
TV shows your date enjoys watching gives you a glimpse of their personality. And creates opportunity for more flirting and teasing when you chat live.
Try the newest chatline numbers for free tonight!
Discover new singles nearby on Adult Phone Chat
Naughty Chat on the Night Exchange
Try Free – Tap to Call

Flirty Adult Chat on Quest
Try Free – Tap to Call

DISCOVER NEW PEOPLE
Get to know your phone chat date better tonight
To really want to connect with your chat date, here are a few ice breakers to try tonight.
What was the first concert you ever attended?
This fun question is a subtle way to get an idea of your date's tastes and personality. What do they enjoy? And can it be a friendly way to tease a flirt a little more?
Were you involved in Greek life?
Frat houses and sororities are a big part of college or university life. Sometimes, loyalties can run deep. This allows you to get to know more about each other and often has a lot of fun stories to share and explore. Things can sometimes get steamy quick!
Can you cook?
It's attractive when a man is confident in the kitchen, and cooking together is usually a great intimate date. Talking about it early on sets the stage and build excitement leading up to the next few dates.
Do you have a go-to drink?
One of the most tried and tested icebreakers around, this one really works. It gives you both the opportunity to learn more about the other person and also gives you a sense of who they are.
Call the top adult Phone Chatlines daily and discover new people nearby!
Whatever you are in the mood for, you can find it on a singles chatline in North America. It's private, confidential and fast! Call the best adult phone chat lines and join the fun!
FREE ADULT PHONE CHATLINES
Adult Phone Chat Line provides: Free Profiles, Free Audio Greetings, Free Voice Mailbox, Listen to Thousands of Local Singles, Live Chat Room, Live 1-to-1 Chat, Talk Live with Sexy Adult Singles, Discretion, Anonymity, Privacy, 24/7 Customer Service.
LiveChatLounge Bringing you tips, updates and special offers. Phone chat, party lines, telephone personals and dating services.