New Rules of Dating – Singles need to know!
Dating today is tricky to navigate. New rules, do's and don'ts and ever changing social etiquette can be overwhelming. If you want get to really get to know your potential date, try phone dating!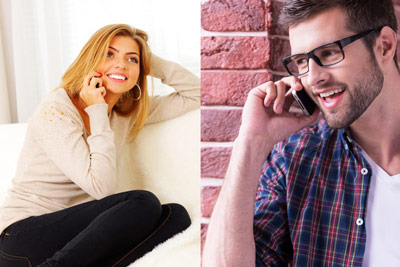 Singles, if you're in the dating game, keep in mind these new rules before your next hot date.
We all know the rules of interaction and what's right to do and not change all the time but here are a few new rules of dating you need to know before your next date. On the other hand, talking to your potential partner before you take things further is always a good idea. Fortunately, the top phone dating chat lines let you do that that. Don't be shy, on the right chatline you can talk to and meet tons of great guys and fun loving ladies. The best free chat lines are safe, secure and private. And you can talk top tons great singles from the comfort of your home. You are in control of any information that's shared. All you have to do is pick up the phone and call; then record your profile and you'll be talking with other members in minutes. It's that easy!
New Dating Rules to keep in mind today.
The time is now.
Don't wait around for your next date to show up. Singles today don't wait "three days" after a date to connect with them. If you had a great time and you want to talk to your new love interest, just do it. If you had the most amazing first date, text or call your date the very next day. Let him know how you feel.
Fewer secrets.
If you have skeletons in your digital closet, your next potential date will probably come across it. Your date will google you. Your Past Is Always Present. Don't be surprised if your dates are looking you up online before you meet. Be prepared to talk about anything public about you that can be found online. Even if your band that's been reviewed in the local paper, or there's an article about a protest 10 years ago that you were arrested for. If it's a part of your past, digital or not, be prepared to talk about it or atleast address it.
Always have an Exit Strategy. Or, don't be shy about turning down a date.
Red flags are still around. Although singles today tend to give others the benefit of the doubt, it's critical to not be taken for a ride. Don't ignore glaring signs of incompatibility, misaligned value systems or rambunctious behaviors. If you're uncomfortable around someone, don't stay in a bad situation. Don't say that yes to that date you really wanted to turn down. So wait for your Mr. Perfect or Miss Right.
New chat line number free trial
Local singles. New callers! Explore your desires tonight.
Dating today is a lot of dos and don'ts. Phone dating services and free trial chat lines let you really get to know someone before taking the next step. Whether it's a one night stand, casual sex, intimate encounters or serious relationships that you're looking for, you can find someone looking for the same things are you. With 100s sexy singles calling in everyday, you will be chatting with someone new in minutes! And you can talk and really get to know them! It's safe, simple and secure. All it takes is one call! Enjoy fun conversations with interesting singles in your city!